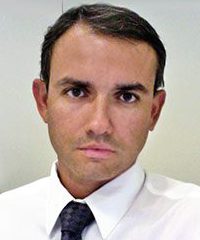 Prof. Luiz Marcelo Sá Malbouisson
---
CNPq Research Productivity Scholarship – Standard 2
Position: Permanent faculty. Medical coordinator of the Surgical Intensive Care Unit (Anesthesiology Division and Surgical Clinic Division III) and the Intensive Care Unit of the Department of Gastroenterology, Hospital das Clínicas, FMUSP. He participates in the Medical Residency Program of Anesthesiology and is an advisor of the Post-Graduate Program in Anesthesiology, Surgical Sciences and Perioperative Medicine. Assistance, teaching and research activities.
Specialties: Medicine: Anesthesiology
Fields of interest: pulmonary repercussions, ventilatory strategies, extracorporeal circulation, use of fluids and drugs during the experimental hemorrhagic shock
Healthcare unit: Instituto Central
h-index: 25 (Google Scholar); 16 (Scopus)
Prizes
Marubayashi LY, Malbouisson LMS, Yoiti L, Meireles A, Silva Júnior JM
Management of patients with high surgical risk
. Mário Covas Award of 2012 offered by the Government of the State of São Paulo..
Activity as editor or reviewer of scientific papers
Ad-hoc consultant of Revista Brasileira de Anestesiologia
Ad-hoc consultant of Revista Clinics (São Paulo)
Ad-hoc consultant of Intensive Care Medicine
Ad-hoc consultant of Revista Brasileira de Terapia Intensiva
Ad-hoc consultant of Revista São Paulo Medical Journal
International activity
2014
LIVES 2014 - 27th Annual Congress of the European Society of Intensive Care Medicine (ESICM), Barcelona - Spain, from 27 September 27 to 01 October 01, 2014
2013
Completed an internship for a month at the Hospital Clinic of Barcelona, a University Hospital to linked to the University of Barcelona - Spain, being received by Prof. Antonio Más of the Intensive Care Unit, which specializes in Liver Transplantation.
33rd Internacional Symposium on Intensive Care and Emergency Medicine - Brussels, Belgium; March 19-22, 2013
Defended thesis
Title: Quantification of alveolar recruitment induced by positive end-expiratory pressure through computed tomography in patients with acute respiratory distress syndrome
Advisor: Maria José Carvalho Carmona
Date of defense: 2003