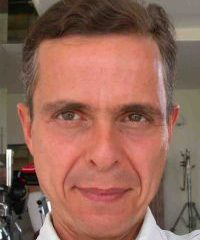 Dr. Joel Avancini Rocha Filho
---
Positions: Assistant physician and researcher, participates in this Anesthesiology Medical Residency Program and acts as advisor at this Graduate Program.
Specialty: Medicine: Anesthesiology
Areas of interest: anesthesia, trauma, critical patient perioperative care, liver transplantation and vascular surgery
Healthcare unit: Central Institute
h-index: 8 (Google Scholar); 5 (Scopus)



International activity
2014
11th World Congress of the International Hepato-Biliary-Pancreato Association (IHPBA), Seoul, South Korea, March 22-27, 2014
Anesthesiology Annual Meeting, October 11-15, 2014, with FAPESP funding n. 14/13819-0
2013
20th Annual Meeting of the European Surgical Society, Beaune, France, April 10-15, 2013, in which he presented the theme: "Anesthetic conditioning in liver transplantation: results of a multicenter randomized controlled trial"
13th Annual Meeting of Americas Hepato-Pancreato-Biliary Association, Florida (CA) USA, February 20-24, 2013, in which he presented the theme: "Hepatic ischemic preconditioning increases portal blood flow in experimental liver/ischemia injury in rats"
Defended thesis and related articles
Title: Effects of hypertonic saline solution during the reperfusion phase in patients undergoing liver transplantation
Advisor: Mauricio Rocha e Silva
Date of defense: 02/14/2006
---
Rocha Filho JA, Nani RS, D'Albuquerque LA, Malbouisson LM, Carmona MJ, Rocha-E-Silva M, Auler JO Jr. Potassium in hemorrhagic shock: a potential marker of tissue hypoxia. Journal of Trauma-Injury Infection & Critical Care 2010;68(6):1335-41. http://dx.doi.org/10.1097/TA.0b013e3181dbbb36
Rocha Filho JA, Nani RS, D'Albuquerque LA, Holms CA, Rocha JP, Sá Malbouisson LM, Machado MC, Carmona MJ, Auler Jr JO. Hyperkalemia accompanies hemorrhagic shock and correlates with mortality. Clinics (São Paulo). 2009;64(6):591-7. http://dx.doi.org/10.1590/S1807-59322009000600016
Prizes
JA Rocha Filho, RS Nani, E Chaib, AQ Farias, MJC Carmona, JOC Auler Jr. e LAC D'Albuquerque
The effects of terlipressine on liver bleeding induced by hepatic hemorrhagic injury: A new strategy for hemosthasis protection"
. Dr Eduardo Carone Filho Prize at International Digestive Tract Transplant Forum, from 9 to 11 December, 2010.